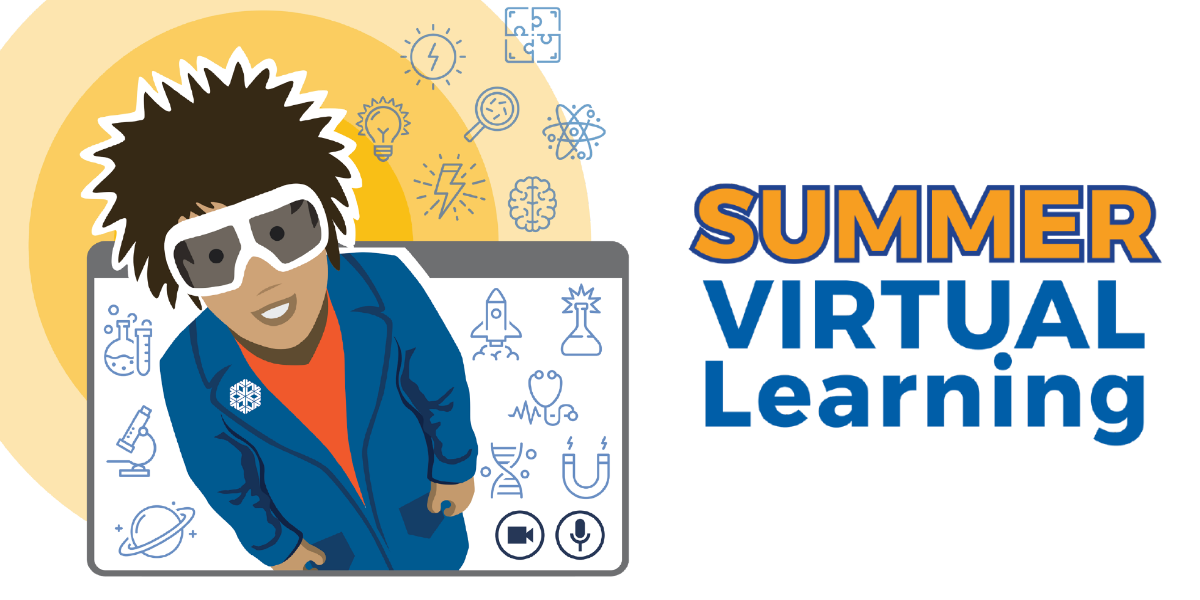 Book a Summer Learning Virtual Experience with Science North to give your students the opportunity to participate in live science shows, engage in coding workshops, and drive their own learning experience by asking a Bluecoat any science question they want!
Please note we will have a limited capacity for the total number of packages available, so be sure to get yours before we sell out!
For more information, email smorrison [at] sciencenorth.ca
---
THE PACKAGE IS PRICED AT $900 AND INCLUDES THE FOLLOWING:

During this 30 minute synchronous session, students will be able to drive their own experience and learning by asking one of our Bluecoat Scientists anything!  This is a great session to increase the literacy component of this package and have your students thinking about open ended versus close ended questions, what makes for an engaging and dynamic conversation and so on. Communication in science is key and we are experts at science communication! 

Join our Bluecoats once a week for fun and engaging Science Shows! Each week will have a different theme. Week One will be an explosion of fun with the focus on Fire and Ice. During week 2 your students will be launched into space to experience the unknown. And during the final week, meet some of our animal ambassadors!
TUESDAYS
English – 10:00 AM
French – 10:30 AM

There are three sequential workshops that will connect coding with a different math topic for each grade level:
Kindergarten to grade 2: MATH AND STORIES
30–40 mins in duration, maximum of 15 students
PART 1: DECODING STORIES

Can you code a story? Students will discover the world of coding and patterns within the story books they know and love, then get the chance to code their own!

PART 2: CODE WITH Q

Everything has a code – even animals! Students will help our computer, Q, code different animal friends through the use of patterns, colours, and shapes.

PART 3: HOPSCOTCH CODE

Students will build on their knowledge of coding from the previous two sessions by learning why sequential events and patterns are important to coding!
Grade 3 to 6: OPERATION CODING
1 hour in duration, maximum of 30 students, Platform: Scratch
PART 1: DJ ROBO

In this workshop, students will discover the world of coding by helping DJ Robo bring music to Outer Space! Students will learn about conditional statements and mathematical concepts as they write their own code in this fun workshop!

PART 2: OPERATION RESCUE

This workshop will have students build on the experience of the first one. This time they will code a program that will help DJ Robo rescue his dog - advancing their knowledge of conditional statements and learning about the importance of loops in coding.

PART 3: SAMPLES FROM SPACE

Students get to create a game in this final workshop, helping DJ Robo collect the samples he was sent to get. The game will introduce variables and build on the knowledge of conditional statements and loops.
Grade 7 TO 9: BEYOND THE BLOCKS
1 hour in duration, maximum of 30 students, Platform: MakeCode Arcade
PART 1: CODING VIDEO GAMES

In this workshops, students will learn about the MakeCode Arcade game engine, and create a fun Video Game using coordinates and variables. This base game gives students lots of room to grow and create their own masterpieces!

PART 2: MATH IN VIDEO GAMES

This workshop has students adding features to a prebuilt game in MakeCode Arcade, they'll go further in detail with coding practices and add more math elements to the game.

PART 3: BEYOND BLOCK CODING

Students will take coding beyond the blocks, and troubleshoot and debug issues with Video Games in the MakeCode Arcade platform. Students will read and correct Javascript code while still being able to refer to the block code used to build the games!